Shopping Basket
Your Basket is Empty
There was an error with PayPal
Click here to try again
Thank you for your business!
You should receive an order confirmation from Paypal shortly.
Exit Shopping Basket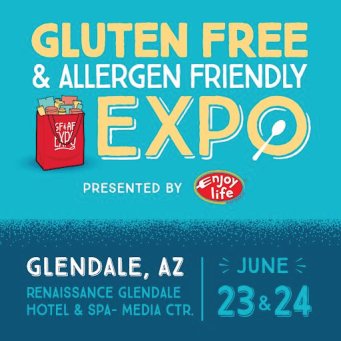 My how time flies. The GFAF Expo will be in Glendale, AZ in June. We have been fortunate to attend most of the Arizona expos, and find each event more exciting every year. The term Gluten Free is a word that was almost foreign more than 20 years ago. We are so very pleased to know that awareness, variety, and healthy choices is now the NORM. Restaurants, schools, hospitals, coffee shops, and most retail shops offer consumers the option, and empowers them with the freedom to now dine out and explore recipes/dishes. We look forward to learning more exciting things, and meeting some incredibly wonderful people. 
Please feel free to follow up with us on Twitter, and share some of your heartfelt stories of your visit to the GFAF Expo. Below are details about this exciting event.
When: The GFAF Expo is Saturday 23 June 2018, and Sunday 24 June 2018. 
What Time: 10:00AM-3:00PM
Where:  The Renaissance Glendale Hotel & Spa (Media Center)
Parking is FREE!
Going Gluten-Free, Even With Diabetes
(NAPSI)—A new guide can help millions of Americans who have diabetes, celiac disease or both.
Celiac disease, an inherited autoimmune disorder, makes people incapable of digesting gluten, so the common treatment for this condition is a totally gluten-free diet. The strong link between celiac disease and diabetes can mean a double challenge of finding foods to fit the dietary restrictions of both conditions. It doesn't need to mean giving up dishes you love, however.
To help, chef Nancy Hughes and registered dietitian and diabetes educator Lara Rondinellis also an extensive list of resources, including organizations, books, websites and magazines.
 
A wonderful way to find out more about a Gluten Free lifestyle is to join us at the

Phoenix AZ Gluten & Allergen Free Expo
The Gluten & Allergen Free Expo will be here in Arizona on February 22-23, 2014 9-3pm. 
We are giving away 5 Tickets to 5 of our  local loyal followers. If you live in AZ, and would love to visit the Expo, please email us to be graciously tossed in the drawing. Winners will be announced by Thursday 20 February 2014.  
We will not have a booth at the Expo, we will be at the event checking out booths, connecting, and learning awesome things about all the wonderful Gluten & Allergen Free resources.
/